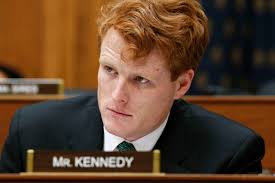 US Representative Joseph P. Kennedy III wants to put a dollar figure on the amount the United States spends as a result of limited access to mental and behavioral health services, a tally of incarceration and addiction-fighting costs he says will help make the case that the money would be better spent addressing the root issue of mental health.
Kennedy spoke in Boston last week about the barriers to mental and behavioral health and what the state and federal governments can do to end the stigma around mental health issues, work to implement innovative policies and promote research to understand more about mental health.
Kennedy said that 20 percent of Americans will battle with a mental or behavioral health issue in their lifetime and the National Alliance on Mental Health said serious mental illness costs Americans $193.2 billion in lost earnings each year.
"This is a structural disaster from the federal, state, and local level that has gone on for decades,'' Kennedy said. "So this is not a Democrat problem or solution or a Republican problem or solution. Both sides, in my mind, have been guilty of not making these investments and we see the ramifications of that in dire consequences.''
The ramifications of the barriers to treatment and care include substance use, homelessness, and incarceration, Kennedy said, which can each lead to other physical health problems and which carry high costs to government.
"We actually already pay for our lack of access to care, we just call it something different. Lack of mental and behavioral health care ends up incarcerating thousands if not millions of people in this country. We don't call that mental and behavioral health care, we call that criminal justice,'' Kennedy said Wednesday. "We're already spending these dollars. You're just spending it on the back end rather than the front end.''
Kennedy said he has been working with various groups to facilitate a study that could develop a good estimate of how much money the federal government spends on the "back end'' to better argue for increased government spending on prevention and early-stage treatments.
"We need some evidence to help make that case and no one has tried to do that study yet,'' he said.
Kennedy's speech was part of a panel discussion marking World Mental Health Day. The group also focused on the specific barriers to mental and behavioral health care that people from minority communities face.
"What we're seeing more and more from ethnic and racial minorities and from linguistic minorities is the issue that they really don't think the care they're going to receive is going to work for them,'' Dr. Margarita Alegria, chief of the disparities research unit at Massachusetts General Hospital said. "And they don't think it's going to work for them because, one, there is a lack of trust in providers that really understand their circumstances they don't look like them, they don't talk like them, they don't have the same interests and lifestyle.''
Alegria said one of the biggest problems she sees when it comes to interpersonal interactions between a provider and a patient who speaks a different language is a lack of respect or dignity for the patient and "the idea that people are not as smart.''
"I mean, actually, providers tell us, 'Oh, I was surprised that this person was smart.' I mean, really?'' she said. "There's a lot of issues in terms of dignity and respect for these populations that is missing.''
Michael Curry, of the Massachusetts League of Community Health Centers, talked about the stigma of mental health issues in the African-American community. He said the common cliche "black don't crack'' has taken on an additional meaning, one that suggests that people struggling with a mental health issue shouldn't show its effects.
"The reality is cracking is happening on the inside. That's the drive-by shootings, the chronic unemployment,'' he said, adding that the discussion of mental health in the African-American community has to include an acknowledgment of the aspects of society that contribute to mental health problems in the first place.
"We've got to have a conversation about mental health that's much broader than those severe mental health conditions but deal with the circumstances in society that create people who break down, who their actions are the manifestation of the neglect, the lack of access, the abuse,'' he said.