8 Questions Colleges Are Asking to Improve Student Mental Health
Guest Blog | May 18, 2023 | Educational Institutions, Stress & Burnout, Athletics & Mental Health
Today's college students face unprecedented levels of stress. From the rising costs of tuition (and ancillary expenses), to the tense political climate, to a world shaped by social media, more and more young people are reporting mental health issues that affect their daily lives. As a result, colleges and universities are facing growing pressure to equip their campus communities with a full spectrum of mental health tools and resources to address students requiring preventative measures, early intervention, and critical need support.
In the Q&A below, Ryan Argo – Mental Health Program Manager at Spartan Medical – discusses the mounting challenges colleges are encountering and the questions that they have.

1. HOW BAD ARE THE MENTAL HEALTH CHALLENGES AFFECTING COLLEGE STUDENTS?
It's a crisis, and it's getting worse. I just read an article about NC State where seven students died by suicide this school year. Although NC State doubled its counselors in the past decade, they still could not fully address the crisis. Other reports also confirm this is a crisis. Nearly half of college students surveyed have reported their overall mental health has worsened since the pandemic. Student mental health issues are associated with lower GPA and higher probability of dropping out, affecting enrollment and retention. Student-athletes feel added pressure to perform academically and athletically, and this increase in stress can trigger mental health issues. For the first time in history, the term "mental health" is included in the NCAA Constitution which all member schools are required to uphold. NCAA legislation now requires member schools to make mental health educational materials, services, and resources available to their student-athletes throughout the year.
"Student mental health issues are associated with lower GPA and higher probability of dropping out, affecting enrollment and retention."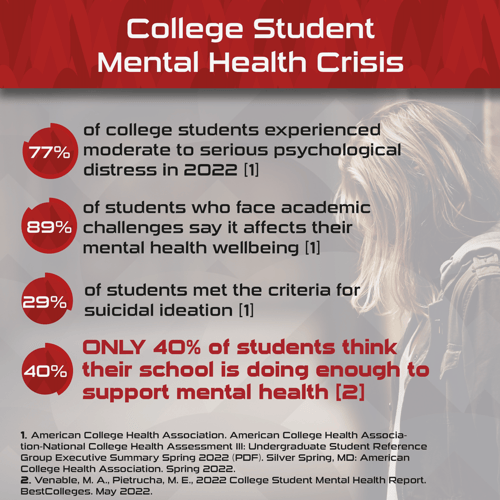 2. IS MY COLLEGE PREPARED TO CONFRONT THIS CRISIS?
We're finding that many of the colleges we've spoken to are providing mental health services, however not enough to accommodate their entire campus population. Even before the pandemic, schools were facing a surge in demand for care that far outpaced capacity. It has become increasingly clear that the traditional counseling center model is ill-equipped to solve the problem, or scale to meet increasing needs. Many college counseling centers are understaffed and at the same time are seeing unprecedented demand from students requesting a wide range of support. To add to the challenge, too many students do not seek help as it's not clear where to go, or they worry about the stigma associated with 'mental health.' In addition, students need other options that are available 24/7 when counseling centers are closed, and sometimes those are the most acute moments for young adults in need.
3. HOW IS THE CRISIS IMPACTING FACULTY?
Students often turn to faculty and coaches to seek support. Faculty and coaches are feeling the burden of taking on the additional role of providing mental health support for their students on top of their already demanding responsibilities. At least half of NCAA coaches responded "very concerned" about supporting student-athlete mental health. One-third of coaches reported mental exhaustion, feelings of being overwhelmed, and sleep difficulties on a near-constant basis. Faculty members are being asked to take on another job that they're not necessarily prepared for, in addition to what they were hired to do.
4. IS THERE A SOLUTION TO HELP COLLEGES AND UNIVERSITIES OVERCOME THOSE CHALLENGES AND ADDRESS THIS CRISIS?
Everyone's mental health journey is different and there is not a "one-size-fits-all" solution. Institutions need additional tools that augment their current resources to allow students to find what works best for them. One of the keys to prevention and early intervention is education about mental health, wellbeing, and promotion of resilience. It is also well established that peer support is extremely helpful for students to open up about their concerns and challenges. It acts as a bridge between self-help and speaking to a professional. Spartan Medical, a leading provider of innovative medical technologies, offers a solution that guides students to personalized Care Paths based on their challenge areas. This allows students to control their desired level of interaction as they work to improve their mental health fitness via smartphone apps. It's like training for a marathon—you don't just get up one day and decide to do it, you must train and get your body conditioned and acclimated. These types of technology tools and resources can help build mental health resilience for the entire campus community, not only for those in critical need.
5. IS THIS A PROVEN SOLUTION?
Studies demonstrate the potential of using mental health apps to positively impact student's mental health. In 2017, a study published in the World Psychiatry Journal concluded that "the evidence to date indicates that mental health interventions delivered via smartphone devices can reduce depressive symptoms." Published just this year, Analysis of Mobile App-Based Mental Health Solutions for College Students concluded that "there is potential to improve depressive symptoms and other similar mental health problems among college students via mobile app interventions."
"Technology tools and resources can help build mental health resilience for the entire campus community, not only for those in critical need."
6. WILL THIS SOLUTION RELIEVE THE BURDEN ON FACULTY?
Using technology in the form of a downloadable app allows students to quickly and easily access resources at their convenience. Faculty and staff can also utilize the app for their own mental health support. If faculty members are familiar with the app, they can recommend it to a student who might approach them for help, providing the student with a resource they can access 24/7. For instance, if a student shares that they're particularly stressed about an upcoming test, a teacher can point them toward useful resources within the app to help manage and reduce stress, which they use as well (also helping to eliminate the stigma).
7. HOW CAN COLLEGES AND UNIVERSITIES ACQUIRE THIS SOLUTION?
To assist colleges and universities in tackling the mental health crisis, and to help meet the new NCAA requirements, Spartan Medical is offering a promotion for the Mindyra Mindhealth Navigator™. This tool is a convenient, downloadable app available 24/7 that guides students to Care Paths with a full range of supportive mental health resources, including peer support groups and unlimited tele-therapy, all in one place. There are three tiers to choose from, and an option to further customize the features to build a package that meets the needs and requirements of every school at a very competitive price. All three tiers are under $5 per month per user. We are honestly trying to make this program as affordable and risk free as possible, while offering maximum flexibility and value to the campus community. For the cost of a large caramel macchiato per enrollee per month, it's worth a serious look while the hidden pandemic rages on across the country. In recognition of Mental Health Awareness Month, institutions enrolling in a 1-year contract with Spartan Medical before June 30, 2023, will not pay any set up fees, and will have an early "out clause" after using the MindHealth Navigator™ for a full semester. Schools can see a live demo of the MindHealth Navigator™ by contacting me directly at 281-782-6781 or by email at RyanArgo@SpartanMedical.com.
8. HOW DOES THIS SOLUTION COMPARE TO THE REST OF THE PACK, AND HOW IS IT UNIQUE?
There are over 20,000 different apps available to address mental health issues. Based on our competitive analysis, the Mindyra MindHealth Navigator™ offers the best value with more features, including unlimited tele-therapy and six free peer support group sessions. In addition, the platform can integrate with each institution's current resources, providing students the convenience of having everything all in one place. The features are also highly customizable, allowing institutions the flexibility to design a package that meets their needs and budget requirements. Once a decision has been made to proceed with the Mindyra MindHealth Navigator, we will assign a Customer Success Advocate to support student awareness, promote campus-wide engagement, and monitor enrollment to ensure successful implementation… We will do all the work for you.
To learn how to bring the Mindyra Mindhealth Navigator™ to your campus, please send Ryan an email at RyanArgo@SpartanMedical.com or call him directly at 281-782-6781.