Engaging your workforce

starts with better mental health

Mindyra delivers value from the ground-up, providing dynamic and highly effective
mental wellness solutions to directly improve community and employee well
being, while simultaneously driving ROI for the business as a function of optimized
employee benefits delivery.
The Mindyra-9 is a proprietary nine-question survey designed to evaluate the relative impact of nine key diagnostic areas with a high degree of accuracy relative to conventional testing methods.
The survey, delivered to your constituents via the MindHealth NavigatorTM, asks people to rate their difficulties on a 1-10 scale for nine basic statements covering each of the core mental health areas in order to assess and triage solutions based on the issues that are most acutely impacting each individual's daily life.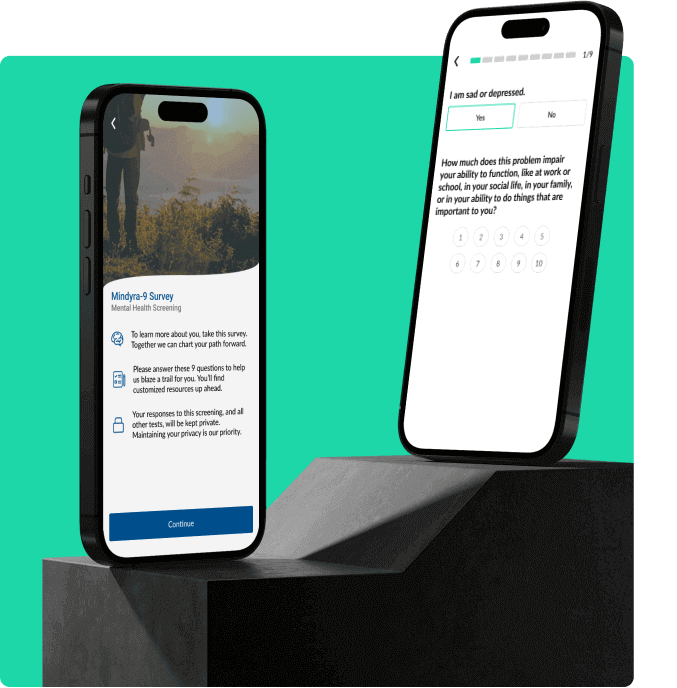 See how organizations like yours are deriving value
Most existing mental health support programs only focus on anxiety and depression, while in reality, employees are experiencing more and more problems in other areas. Organizations today need a comprehensive screening tool that can provide individualized support.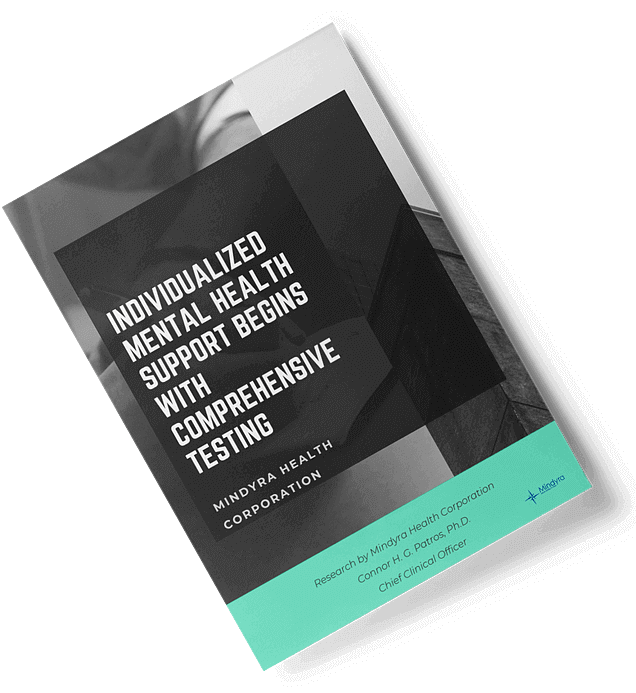 Personalized Care Paths
Using each individual's personalized profile based on their unique responses to the initial Mindyra-9 mental health screener, the MindHealth NavigatorTM provides a curated list of available resources and care paths to address their most pressing needs.
Learning Library
Mindyra has an extensive library of informational resources and literature that each individual will have access to regarding their specific health needs
Personalized Tips & Apps
Based on the unique issues affecting each individual, the Mindyra MindHealth NavigatorTM will provide a selection of actionable tips and self-guided support
Group Support
Individuals have the opportunity to connect with peers who are experiencing the same challenges and are following a similar care path
Teletherapy
For more intensive mental health care, individuals are able to select and talk to professional therapist using unlimited teletherapy. Emergency support also available.
Organizational Resources
Utilize the MindHealth NavigatorTM as an internal hub for your organization's unique benefits package related to fitness and mental health
Dynamic Progress Tracking
Care Progress Surveys (CPS) help users identify areas in their day-to-day lives in which they are either struggling or excelling. Survey results provide feedback to users about how their current care path is helping them improve, and are essential in helping users identify when they need to make a change. Through this dynamic feedback, users put themselves in the best position to continue improving.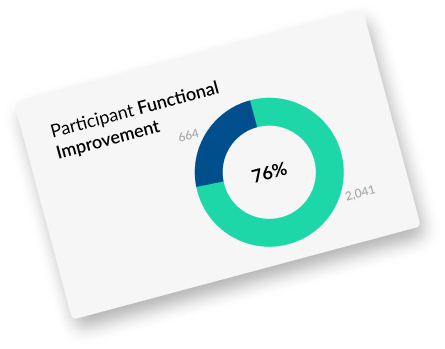 Company-Wide Analytics
Administrators are able to view anonymized, aggregate trends across the organization to better understand overall employee health risk. Aggregate reporting provides employers with data on the health related challenges faced by their employees to help guide the selection of future wellness programs and maximize ROI across their holistic benefits package.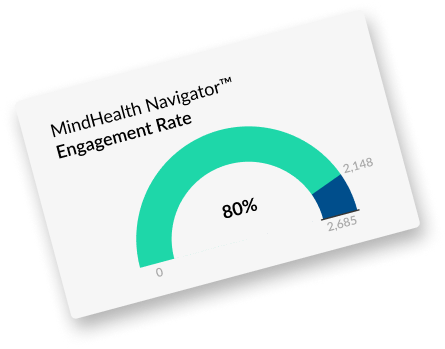 Frequently Asked Questions
What is the difference between Mindyra and other mental health programs?
Mindyra provides a full spectrum of care pathways to address the needs of your entire population in one app. Other mental health programs only provide a single care path addressing the needs of a smaller percentage of your total population.
Mindyra testing tools are clinically validated and proven to indicate mental health conditions that other tests miss. Read here to learn more about this critical issue.
Mindyra's algorithms point the individual to the most comprehensive selection of care options available, all tailored to the individual's specific difficulties and can include any existing care options you may already have.
Mindyra are the clinical experts. Mindyra's testing has been validated in over 80 psychiatric hospitals across the country. Organizations can now put that expertise to work to most effectively improve their employees', students' and members' mental wellbeing.
How does Mindyra's tele-therapy work?
Tele-therapy provided by Mindyra includes emergency support within 24 hours, as well as unlimited tele-therapy with masters-level, licensed therapists who the individual can select and access after registration.
Is Mindyra's software HIPAA compliant?
Yes, Mindyra complies with the highest levels of security for the healthcare industry, HIPAA/HITECH compliant. Individual data is completely private and confidential. Organizations cannot access individual data without their permission.
Are Users' Results Private?
Individual results are only accessible by themselves and are never available to anyone who is not involved in their care.
Upon requesting care from a professional, a user's testing results may be shared with the professional with whom they will work.
Individuals, who schedule an appointment with a healthcare provider, will have a more valuable and targeted first session when the care provider can review the testing results prior to the first appointment. It ensures that the time is spent focused on giving the individual what they need right away.
Yes. Although organizations never have access to individual testing results, they do have access to de-identified, aggregate reports. These reports give administrators an overview of the difficulties their employees, students or members are experiencing and the rate at which they are improving.
Can I integrate my organization's current mental health tools (e.g., current EAP, mobile apps) Into the MindHealth NavigatorTM?
Yes, which makes all your mental health programs available in one, easy to use app that addresses the needs of your entire population..
Mindyra is a great partner in supporting our goal to provide mental health services for our employees and members
"As one of the largest YMCAs in the country, our objective is to promote healthy living in spirit, mind, and body for our staff and members. We selected Mindyra for their ability to deliver a full service mental health care platform which covers the full spectrum of solutions we require to serve our diverse staff and members. A key component to successfully deploying employee support programs like Mindyra's is receiving constant support and guidance throughout the implementation process, which Mindyra provides with great quality and consistency."
Marjorie G. Cregg, Chief Advancement Officer of YMCA of the North Shore
A robust mental health support system for college athletes at a great price
"At MTSU, we were looking for a resource for all our student-athletes to understand mental health and have access to care. After vetting several options, we chose Mindyra as our partner. They had a more robust offering at a great price!"
Drew Shea, MS, ATC, LAT, Associate Athletic Director of Sports Medicine at MTSU
A powerful solution for any healthcare system
"We hired Mindyra to establish an outcome measurement system across our entire organization. We now have measures in place that help us benchmark our services and help prove to payers what is most effective for patient care. The application of Mindyra's MindHealth NavigatorTM for supporting post discharge patients and the provision of mental health benefits for employees is compelling. Mindyra's software applications present a powerful solution for any large healthcare system."
Michael Genovese, JD, MD, CMO of Acadia Healthcare
Full Service Mental Health Support System Delivered on College Campuses
"During the COVID-19 pandemic, Spartan Medical provided on-site operations testing and vaccine management to the Department of Veterans Affairs, state governments, K-12 schools, and an award winning turn-key solution for college campuses. We are now focusing our knowledge, skills, and experience on the hidden pandemic plaguing universities…The Mental-Health Crisis. By partnering with Mindyra, we are providing a comprehensive solution designed to build resilience and provide mental health fitness and well-being for the entire campus community, not only those in critical need. We pride ourselves on targeting big issues, and with help from the team at Mindyra, mental health support on college campuses is now a capability we deliver."
Vince Proffitt, CEO of Spartan Medical Inc.
Schedule a personalized free consultation
Take the next step towards a comprehensive mental health solution – schedule a consultation today to learn how Mindyra can help your organization.