Mindyra Partners With HeyPeers to Offer Support Groups, Certified Coaches to Employees Struggling With Mental Health
Mindyra Team | October 29, 2021 | News
Digital behavioral health company Mindyra Health Corporation today announced a partnership with online peer-to-peer support group HeyPeers to offer its support services as part of Mindyra's mental health toolkit free of charge to employees whose companies use Mindyra. HeyPeers will be the only peer-to-peer resource provider available through Mindyra.

"While we are seeing a rise in employee mental health difficulties, this does not mean that employees are ready or need to jump right into therapy," said Mindyra Chief Clinical Officer Connor Patros, Ph.D. "In fact, the majority of employees with mental health challenges likely do not need a coach or therapist, but may benefit from self-guided tools. Our new partnership with HeyPeers rounds out our resource directory for employees, allowing us to feel confident that employees across the full spectrum of need will be supported."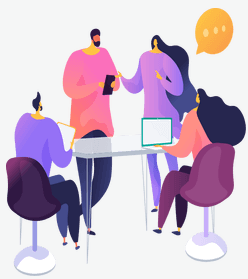 The partnership allows Mindyra to offer HeyPeers' 24/7 peer-to-peer resources and certified coaching, expanding employees' palate of free mental health options. It also makes Mindyra's mental health screening tool, the Mindyra-9, available to HeyPeers users.
"The ability to assess and more accurately diagnose issues that an employee may be struggling with is a critical component of improving their mental health," said HeyPeers CEO/Co-Founder Vince Caimano, Ph.D. "We are excited about this mutually beneficial partnership to continue expanding the menu of mental health resources available to people during this challenging time."

Research indicates peer-to-peer support provides important mental health benefits to those who choose to participate. A 2018 study from Mental Health America found peer support can improve quality of life, engagement with services and overall health. Studies by HeyPeers have shown video-based peer support meetings can reduce the severity of depression by 33% and decrease the frequency of other emotional health challenges including anxiety and stress. There's also evidence that peer support can reduce hospital readmissions, lowering the cost of care for providers, payers and employers.

"Mindyra guides employees to a menu of mental health solutions, customized to the needs of each individual employee," said Mindyra Chief Executive Officer Bill Battey. "Research indicates that only a small subset (approximately 5-10%) of all employees experiencing a mental health challenge present with high severity mental health issues, yet most employee mental health programs focus on that subset. The majority of employees experiencing mental health difficulties will have low to moderate severity challenges. For that majority, resources such as peer-to-peer support are a vital offering to help provide mental health assistance before those issues become more severe."