Missed Diagnosis: Study Finds Traditional Mental Health Screening Tools Provide Insufficient Data
Connor Patros | August 26, 2021 |
Research shows about 40% of patients reporting moderate to severe depression also dealing with undiagnosed mania
DARIEN, CT (August 27, 2021) – A recent study from digital behavioral healthcare company Mindyra indicates the most popular mental health screening tests often provide insufficient data to yield an accurate understanding of the full spectrum of an individual's clinical difficulties. The study found that participants who reported minimal symptoms on two of the most commonly utilized mental health tests often had problems unassessed by those measures, including trauma, mania, and sleep and eating disorders.
In the study, Mindyra used a community sampling approach of more than 450 adults and had them complete industry standard behavioral health tests, the PHQ-9 and GAD-7, as well as Mindyra's proprietary test, the Mindyra-9. The research indicates that while the PHQ-9 and GAD-7 provide a relatively in-depth view into an individual's depression and anxiety concerns, they have shortcomings when it comes to broader mental health evaluations.
The findings are consistent with Mindyra's other research showing that 98% of more than 5,700 adults in inpatient psychiatric facilities who scored in the moderate to severe range on the more traditional tests, reported problems other than depression or anxiety on the Mindyra-9.
"Behavioral health evaluation is complex," said Mindyra Co-Founder and Chief Clinical Officer Connor Patros, Ph.D. "This is in part because patients with one singular problem area are the exception rather than the rule. The past year and a half have brought mental health issues in our society to the forefront like never before. We know you can't effectively treat a patient if you don't have a comprehensive assessment of what they are going through to begin with. Our research indicates a need for a different kind of testing in the mental health world."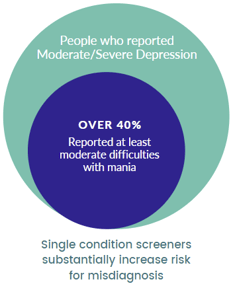 The Mindyra-9 asks patients to rate their difficulties on a 1-10 scale for nine basic statements such as "I am sad or depressed," and "I have problems with sleep and it's affecting me negatively." Among a cohort of about 240 participants between the age of 18 and 54, nearly three quarters endorsed absent or mild depression or anxiety based on their PHQ-9 and GAD-7 responses. Those individuals would likely be deemed asymptomatic in many health care settings. Yet at least 50% of those same participants endorsed at least one moderate severity problem other than depression or anxiety when they took the Mindyra-9. Among participants who reported moderate to severe depression on the more traditional screening tests, 95% endorsed at least one other moderate severity problem other than depression on the Mindyra-9 and over 45% reported difficulties associated with mania.
This means that in many cases, individuals may potentially have other underlying mental health issues that are going undetected.
It comes at a time when mental health concerns are on the rise in the U.S. amid the ongoing COVID-19 pandemic. According to the National Institute of Mental Health, nearly one in five adults lives with at least one mental illness. The pandemic's impact has been especially acute for young adults, with a CDC study from 2020 indicating about three quarters of Americans ages 18-24 reported an adverse mental health condition.
The studies went through a rigorous research review process including review by all members of Mindyra's Clinical Advisory Board including Chairman Hank Schwartz, M.D., psychiatrist-in-chief emeritus at The Institute of Living/Hartford Hospital and former regional VP for Behavioral Health of Hartford HealthCare; Lloyd Sederer, M.D., former chief medical officer for McClean Hospital, former medical director for the New York State Office of Mental Health and director of Columbia Psychiatry Media; David Tolin, Ph.D., founder and director of the Anxiety Disorders Center and the Center for Cognitive Behavioral Therapy at the Institute of Living/Hartford Hospital, adjunct professor Yale University; and Victor Villagra, M.D., founder and president of Health & Technology Vector and chief physician advisor to the National Rural Electric Cooperative Association.
"The bottom line is our treatments are only as good as the accuracy of our diagnoses and our understanding of the comorbidities many struggle with," said Dr. Kent Stahl, former vice president of Hartford HealthCare, former CEO and medical director of Hartford HealthCare Medical Group and member of Mindyra's Clinical Advisory Board. "We believe Mindyra-9 testing provides earlier access to critical clues on how best to care for our patients, allowing us to expand our understanding of a patient's mental health. This then allows providers to better treat the complex underlying issues that are affecting so many at this time."
About Mindyra
Mindyra is a digital behavioral health company that provides diagnostic testing, treatment planning and care progress measuring tools to help improve health outcomes.

Care providers use the software to test, diagnose, plan treatment and monitor progress. Employees can self-administer tests to help guide them to care options specific to their difficulties and measure their progress. Employers engage Mindyra to improve employee mental health, reduce overall health care risk and optimize wellbeing program benefits.
Mindyra is the only digital behavioral health care company to have a clinically-validated test that assesses over 50 different diagnostic indications for all ages. Based in Connecticut, the company has experts throughout the northeastern United States.Your blog post content here…