Should Mental Health Be a Primary-Care Doctor's Job?
Suzanne Koven | February 15, 2016 | Care Providers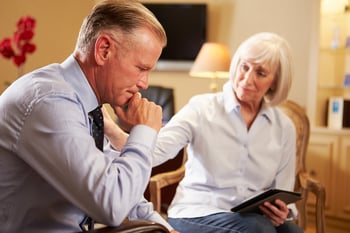 Patients occasionally ask me if I'll be the doctor who'll take out a gallbladder or deliver a baby. I tell them, "You deserve better." I'm a primary-care internist, and my expertise is broader than it is deep. I manage high blood pressure and cholesterol, but refer people with heart attacks to cardiologists; I perform Pap tests and prescribe birth-control pills, but send pregnant women to obstetricians; and I often diagnose, but never treat, cancer.
With mental illness, though, the limits of my role are less clear.
I'm comfortable helping people get through life's more common emotional challenges, like divorce, retirement, disappointing children. If you're hearing voices, or if you walk into my office and announce that you've decided to kill yourself, as someone did not long ago, I know exactly what to do: escort you to a psychiatrist. But what about the lawyer who's having trouble meeting deadlines and wants medication for attention-deficit disorder? Or the businesswoman whose therapist told her to see me about starting an antidepressant? Or the civil servant trying to shake his Oxycontin addiction? They've all asked me to treat them, because they don't want or can't easily access psychiatric care.
This winter, I'll see more patients with seasonal-affective disorder than the flu, and the tissues in my exam room will dry tears more often than they muffle sneezes. The problem is, I lack the time or training to diagnose and manage many psychiatric disorders. And some studies, such as this one about low rates of detection of anxiety and depression by primary-care doctors, show that I'm probably not all that great at doing so. Still, over a third of all mental-health care in the U.S. is now provided by primary-care doctors, nurse practitioners, pediatricians, and family practitioners.
One reason is that there aren't enough psychiatrists.
I recall discussions, fifteen years ago, among members of my internal-medicine group about whether it was ethical for us to prescribe antidepressants when we practiced in a hospital with dozens of mental-health professionals on staff. We no longer have those discussions. Demand by patients for mental-health care has increased such that if primary-care doctors didn't offer it, many people would go without it. It'sestimated that seventy per cent of a primary-care doctor's practice now involves management of psychosocial issues ranging from marriage counselling to treatment of anxiety and depression.
Some argue that the increased demand is artificial, driven by overdiagnosis of mental illness and overuse of psychiatric medications. With one in four adultsand one in five children currently carrying a psychiatric diagnosis—and one in five Americans taking psychiatric medications regularly, such skepticism seems warranted. Regardless, access to psychiatric care is nowhere near large enough to meet the growing demand. Fewer medical students are going into psychiatry, partly because psychiatrists, like primary-care doctors, earn among the lowest salaries of all physicians. Those who do choose psychiatry often don't accept insurance, including Medicare and Medicaid, requiring patients to pay out of pocket. Affordable psychiatric treatment is especially limited for children and in rural states. Wyoming, for example, which has one of the highest suicide rates in the nation, had, according to one count from a few years ago, a mere twenty-seven psychiatrists—just over five per hundred thousand residents. Massachusetts, by comparison, had around over two thousand psychiatrists, or around thirty-two per hundred thousand residents.
But even in Boston, where I practice, primary-care doctors are treating more mental illness. Some patients don't have adequate insurance to obtain specialized mental-health care, despite legislative efforts, including the Affordable Care Act, to create parity between mental-health coverage and coverage for other medical conditions. Some people want psychiatric care without having to see a psychiatrist. Having finally confided a long-held secret of compulsive hand-washing or bulimia to me, some patients would rather not share it all over again with someone else. And some wish to avoid having, as one of my patients put it, "a psychiatric rap sheet"—a record that an insurance company, employer, or nosy family member might discover. They'd prefer to have their psychiatric diagnoses tucked discreetly between my notes about their heartburn and their eczema.
Maybe technology is the solution.
Harvard Medical School's Center for Primary Care recently announced a new program to improve the quality of psychiatric care offered by primary-care doctors. In its initial phases, it will place mental-health workers in six Boston-area primary-care clinics and target the treatment of depression. It will also outfit the clinics with videoconferencing technology to enable consultations with psychiatrists and other specialists.
Programs like Harvard's aren't only responding to a shortage of psychiatrists, though. They're part of a movement toward what's called the "Patient-Centered Medical Home." First conceived in the nineteen-sixties by pediatricians who were trying to provide better-coordinated care for chronically ill children, the medical-home model urges patients to receive most of their care in the offices of their primary-care doctors, with consultants coming and going. When a patient needs to see a specialist, the primary-care provider arranges and oversees the consultation. Often it occurs in the primary-care doctor's office, or even in the patient's actual home, via something like Skype; this modern medical home depends heavily on technology, such as electronic health records and video and digital communication between patients and their doctors—and between the primary-care team and consultants.
To get a sense of how this model differs from current norms, I told Dr. Russell Phillips, director of the Center for Primary Care, about the businesswoman whose therapist had recommended that I prescribe her an antidepressant. I mentioned that I'd prescribed it, arranged to meet with the patient frequently, and crossed my fingers that the drug would be effective and wouldn't cause side effects. If the medication didn't work, or if she didn't tolerate it, I'd likely have to convince her to see a psychopharmacologist—if I could find one who accepted her insurance. How would things have been different if I practiced in one of the clinics participating in his new program?
Phillips said that first, my patient would fill out a PHQ-9 survey, a nine-question screener for depression. The survey isn't perfect, but it might cut down on some of the antidepressant prescriptions written by primary-care doctors too busy to verify that a patient is clinically depressed. If she met the criteria for depression set by the PHQ-9, her name would be entered in a registry of patients in my practice who were assigned follow-up care with a psychiatric nurse, social worker, or other mental-health professional on my medical team. If appropriate, I'd prescribe an antidepressant, but with access to consultation by phone or videoconferencing with a psychopharmacologist paid to assist me.
Can telemedicine revolutionize the healthcare industry?
While it sounds reasonable for a primary-care doctor to get an opinion about a rash or a chest X-ray via computer, it's less obvious that a patient's mental health could be assessed this way. But, it turns out, "telemental health" works surprisingly well. A 2013 review of several programs in which patients received psychiatric evaluation and counselling by phone, e-mail, or video showed that telemedicine can improve symptoms, reduce length of hospital stays, and help people adhere to medication as well as face-to-face psychiatric care. For children and adolescents, telemedicine often works better than face-to-face care.
Still, I confessed to Phillips that surveys, registries, and videoconferencing didn't sound like the kind of patient interactions that made me choose primary care in the first place. He argued that, actually, the type of care he's proposing is simply a modern version of what an old-fashioned general practitioner offered. A few generations ago, the family doctor was a one-stop resource for health care and emotional support. He might deliver you, take out your tonsils, write your college-recommendation letter, and, if he outlived you, preside over your deathbed. Phillips envisions twenty-first-century primary care as being no less inclusive. "Our patients are coming in to see us," he told me. "They have needs. We should be able to address as many of those needs as possible. And we know behavioral-health disorders are front and center, so it should be something that primary-care doctors can manage."
He also pointed out that in the current system, in which a doctor who cares for a patient's body often has little contact with the doctor who cares for her mind, doesn't make much sense. Psychiatric drugs and conditions can affect physical health, and drugs for medical conditions, as well as the medical conditions themselves, have psychological effects. And people with mental illness are two to four times as likely to die from their medical conditions as people without mental illness. Several studies have shown that when primary-care doctors team up with mental-health workers, their patients' physical health improves.
The key to making team-based medical care work, Phillips said, is helping the patient feel that his or her relationship with the primary-care provider is at its center. "I've actually done some of this," he told me. "And it's very meaningful to patients to have a connection to a member of the team when they realize that the team is an extension of their physician. So it can't be a faceless person who's anonymous and is a robo-caller."
Not long ago, a patient of mine came to my office, accompanied by his worried family. He'd been acting peculiarly, and it wasn't clear whether his behavior was caused by some longstanding psychiatric issues or by his many medical problems and medications. I phoned a psychiatrist at my hospital to see if I might expedite an appointment for an evaluation to complement my medical work. "Is he with you now?" the psychiatrist asked. I said that he was, and she told me that she happened to be free, and would come to my office and meet with him there.
The patient and his family were greatly reassured by the psychiatrist's visit. I have no doubt that much of that reassurance came from seeing the psychiatrist and me, even briefly, in the same room together—from a sense that I, the doctor who knows the patient best, was running the show.
I thought, Wouldn't it be great if a psychiatrist appeared in my office every time a patient needed one? In the future, one will—most likely on a screen.